Horse Riding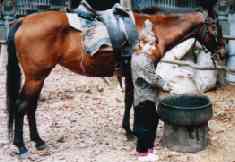 TAITíS WONGABEL STABLES
∑ Sheila Tait is a well known and trusted horse person who has established her company around horse riding lessons and trail rides.
∑ She caters to all age groups and levels of experience, from a novice (someone who has never ridden ), to the experienced rider.
∑ A few different rides are offered which traverse the open country and also rainforest bush.
∑ There are many opportunities to see spectacular scenic views from the mountains. This is a true Australian horse riding experience.
∑ Taitís Wongabel Stables is located on Wongabel road.
HOW TO GET THERE:
∑ Follow the Ravenshoe road (Kennedy Highway), out of Atherton for 11km until you come to Wongabel road on your right hand side just past Scrubby Creek. Turn right into Wongabel road and then 2km later, left into Deep Creek road. The stables are 2km along Deep Creek road.
1 HOUR RIDE / LESSON
:
COST: $35
MORNING RIDE
:
∑ Including billy-swung morning tea
∑ Approximate duration 3-4hrs in duration
∑ Ride begins at 8:30am
COST: $70
FULL DAY RIDE:
∑ Whole day rides can be arranged if sufficient riders are available and advance notice is given.
COST: $120
Contact Details:
Enquiries:
Taitís
Wongabel

Stables
Email Enquiry
Ph:(07) 4091 2070
Write:
P.O. Box
261, ATHERTON 4883
www.wongabel.com.au
∑ Bookings are essential Sheila suggests that you enquire in advance.
It is best to phone after 6pm.