Kauri Creek Walk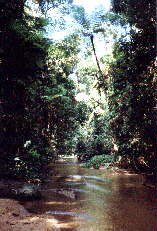 This is one of the better walks in the Danbulla State Forest area. It is a full circuit track of five and a half kilometres. The first section of the walk takes you through the riverine vegetation along Kauri Creek. The track climbs steeply for a section after leaving Kauri Creek, then descending quite steeply to return to the creek, taking you through to an old forestry loging access road. This road is followed for most of the trip back to the carpark and picnic area. As the track leaves the road, it passes through a gathering of Brown Salwood. These trees have regenerated in an area previously cleared for grazing.
The track is designed for intermediate to advanced walkers, although for those who are beginners, there is still the option to see the Red Cedar Tree located at a kilometre into the track, before returning to the picnic area. Eager walkers are still recommended to take the walk, as there are many places to stop and look at your surroundings whilst you catch your breath.
Be sure to wear shoes with a closed toe, preferably hiking boots, as there are many roots which cross the path, some, difficult to see.
The Kauri Creek walk will show some of the natural wonders of North Queensland, the peace, serenity and beauty of the area should not be missed.