Malanda Hotel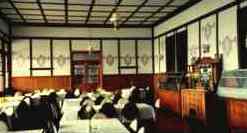 Malanda Hotel:
The Malanda Hotel is the most obvious landmark of the location, characteristically built from the timber of local trees. As you enter the restaurant section of the hotel, you will notice the prominence of these timbers, seen in the floorboards and the magnificent staircase (made from local Silky Oak) leading to the hotel rooms and second floor. The hotel serves a range of very tasty counter meals, reasonably priced, to be eaten with a selection of beers, wine, spirits or soft drink.
Location: Centrally located in Malanda.


Phone: (07) 4096 5488.
Email: malandahotelmotel@bigpond.com


Restaurant Opening Times

Evening Meals: Monday to Friday, 6pm - 8pm, à la carte
Saturday, 6pm to 8:30pm, buffet

Lunch:

10am to 2pm Monday to Sunday


Alcohol: Fully Licensed.
---